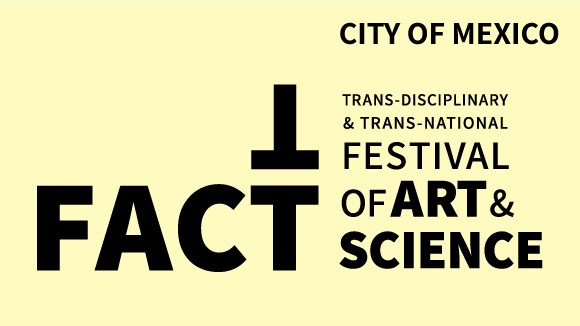 FACTT – Mexico
The Arte Institute in partnership with Mute, Cultivamos Cultura and Ectopia has the pleasure to announce the first FACTT – Festival Art & Science Trans-disciplinary and Trans-national in Mexico.
The Festival took place in Lisbon and New York in September and will arrive to Mexico City on October 6.
UNAM
Museo de Historia de Tlalpan
Ex Teresa Arte Actual
October 6 to 14
TRANSFUSION-FACTT is an international forum that brings together artists, producers, doers, humanists and scientists to generate an exchange of knowledges that link science, art and free technology.
From a transdisciplinary perspective, we seek to form transnational communities that work to produce ideas, projects, practices, texts … that allow us to understand the contemporary world from a plural perspective and also influence their reinventions.
This project seeks to fuse multiplicities in order to open new areas of action and new areas of critical and creative thought. Its goal is to reappropriate dynamics, methodologies and problems from which we could detonate another look and with it, another possibility and incidence to inhabit the world we live in.
For this edition mediations with the body and its affectations will play a central role.
What is a body? What can a body do? How is a body bioframed from the interventions performed in it.
Where is a body? How to think the concecuences produced between the contact of bodies and environments? Is there an obsolescence of the body resulting from (bio) technological mediations?
How can we explain the death of a body and its diseases? In terms of biopolitics, what role does the State, Private Initiative and Society play in the administration of the affections of the body, like its health, diseases, interventions and prosthetics? How is therapeutics managed, (like self-care techniques) in the world of technoscience that goes from the generic industrialized to the genetic individuation?
Because we are looking to give an answer to these questions, we have organized a collective exhibition, workshops, seminars, conferences, a colloquium and live performances.
Program FACTT Mexico
Exhibition

Amy Youngs
Andrew Carnie
Berenice Olmedo
Bios Ex Machina
Fronda
Jaime Lobato
Jorge Bennet
Ken Rinaldo
Lena Ortega
Marta de Menezes
Minerva Hernández
Pedro Miguel Cruz
Robertina Sebejanic
Suzanne Anker
Workshops

Colectivo [Radiadores]
Cristian Delgado (Biointerfaces)
Eduardo Meléndez
Gloria Mendoza (Bosensores)
Marta de Menezes (CRISPR-Cas 9)
Minerva Hernández
Tonantzin Martínez
Vivian Abenshushan
Conferences

Ana Cueva (ES)
Arnoldo Kraus (MX)
Cuitláhuac Moreno (MX)
Jorge Linares (MX) Dir. Facultad de Filosofía y Letras UNAM
Manuel Furtado dos Santos (POR)
María Antonia González Valerio (MX)
Maria Manuela Lopes (POR)
Marta de Menezes (POR)
Miguel Zapata (ES)
Óscar Yáñez (MX) Coord. Lab. Imageneología UAM
Paulina Rivero (MX)
Pedro Arrifano (POR)
Rosaura Ruiz (MX) Dir. Facultad de Ciencias UNAM
Sandra González (MX)
Live Performing

Alexandra Cárdenas (MX)
Colectivo [Radiadores] Mico Rex (MX)
Guillermo Santamarina (MX)
Malintzin Cortés (MX)
Maria Manuela Lopes (POR)
Minerva Hernández (MX)
FACTT will continue in Berlin at the end of the year.
Partners City of Mexico
Cultivamos Cultura
UNAM
CUDI
Corieda
Secretaria de Cultura
Secretaria de Salud
Delegación Tlalpan
Arte Institute (NY)
MUTE
Coordinación de la Investigación Científica UNAM