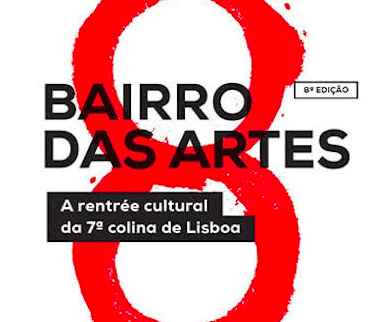 8th Bairro das Artes
Arte Institute suggests 8th Bairro das Artes in Lisbon.
The Cultural Rentrée of Lisbon´s Seventh Hill
September 21, 2017
7-11 PM
37 Contemporary Art Venues
Lisbon, Portugal
In its eighth iteration, Bairro das Artes underpins the cultural offer of Lisbon's most vibrant art district, presenting to diverse audiences 37 free events taking place in galleries, museums, bookshops and various contemporary art venues located in the city's Seventh Hill. Exhibition openings, guided tours, book releases, public art projects on the streets of this dynamic neighborhood make up the wideranging visual arts programming, from Painting, Photography, Installation, Drawing and Prints, to Music, Cinema, Jewelry, Urban Art, and, for the first time this year, Architecture.
Bairro das Artes is an annual event organized by "Isto Não é Um Cachimbo. Associação" created in 2010 to promote Contemporary Art in Lisbon. The 2017 edition of Bairro das Artes brings together nearly all contemporary art venues with regular programming located in this neighborhood, building on the initial premises that have guided each iteration since its inception in 2010.
For more information visit bairrodasartes.pt