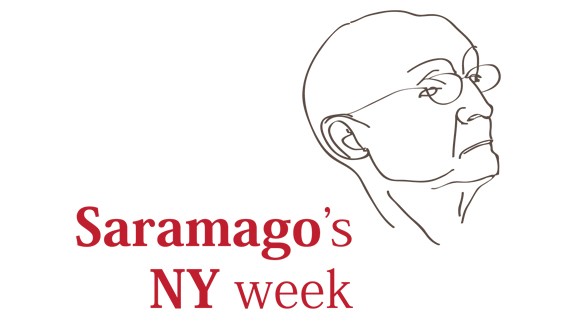 Portuguese and Spanish Short Films Screening
In the context of José Saramago's week, Arte Institute is organizing a special night of Portuguese and Spanish short films on October 27th.
The evening begins with an exclusive Q&A with award-winning documentary director Miguel Gonçalves Mendes of "José e Pilar" at the Rooster Gallery.
After the session, a selection of shorts from Portugal and Spain will be screened at Anthology Film Archives (10 pm). The Director will be present.
The Portuguese program is curated by Arte Institute and the Spanish program is curated by Telegraph21.
Get tickets here.
Portuguese Program
(Curated by Arte Institute)
José e Pilar (10 minutes EXCERPT), 2010
Miguel Gonçalves Mendes
Synopsis: The days of José Saramago and his wife Pilar del Rio.
Infinito, 2011, 9.15 min.
(Infinite)
By André Santos / Marco Leão
Synopsis: Silence is absolute and time dilates as we lose ourselves in an unpredictable space among non-existent places.
Catarina e os Outros
(Catarina and the Others)
André Badalo, 2011, 15 mim.
Synopsis: Outside, the first sun rays break the dawn.
Sixteen years old Catarina can't fall asleep.
Inconsequently, in the big city, adults are moved by desire…
Spanish Program
(Curated by Telegraph21)

Los 4 McNifikos
Tucker Dávia Wood, Spain, 2010, 5.30 min.
Synopsis: Thirty years ago, in the remote Basque suburbs of Erandio, three young kids unknowingly contributed to the rise of a new cultural phenomenon that would soon hit the world.
La Huída
Victor Carrey, Spain, 2010, 10 min.
Synopsis: Humor, poetry, and slow motion images that create pure happiness.

Immersió
Neus Ballús, Spain, 2010, 25 min.
Synopsis: The underwater scenes of a local Barcelona swimming pool.