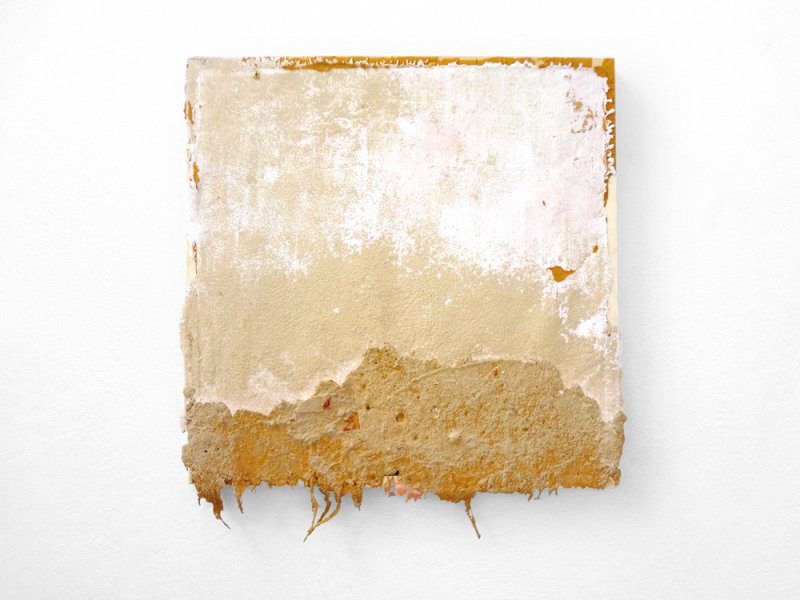 JORGE AMARICO – Absent Presence
We have the pleasure to exhibit Absent Presence by Jorge Amarico.
Press Release
Absent Presence
The memory and how the past can merge with the present to create new ways of seeing and thinking our times is the focus of Jorge Américo's practice. The artist explores memories and nostalgic spaces by reflecting the idea of layers years. Working with photography and painting his body of work correlate these practices with architecture, in his case old and extremely decayed buildings. The work is site-specific, abandoned fields found spaces that afterwards are transported to new present inhabited areas.
The location of those buildings is relevant. In the south of Portugal, the buildings are made of inferior materials, so they paint the walls periodically. The process of Jorge Américo's paintings embraces those layers, space and time memories left by the families for years and years.
Those over layered walls attracted the artist to explore and rediscover them as an archaeologist. In a reverse cycle, he conveys to the fore plan what was beneath resulting in a nostalgic aura. As a skin that once protected the wall now is exposed revealing his substance and its long-hidden identity.
Jorge Américo, b. 1984, works and lives in Silves, Portugal. His artistic focus is the memory of the architectonic space and the way it merges with the present through painting and photography.
Solo exhibitions: 2015 — Entre a tinta e a parede (between the paint and the wall) – Atelier 6, Eletricidade Estética, Caldas da Rainha, Portugal; 2007 — Exposição Jorge Américo at The Guetto, Caldas da Rainha, Portugal.
Group exhibitions (a selection): 2015 —Cerveira Bienal, Cerveira. Portugal CPLP Bienal, Jovens Criadores (Young Creators), Maputo, Mozambique; 2014 —Jovens criadores 2014 (Young Creators Prize 2014), Famalicão, Portugal; 2013 —CPLP Biennial, Jovens Criadores (Young Creators), Salvador da Bahia, Brazil; Jovens Criadores de Portugal 2013 (Portugal Young Creators Prize 2013), Coimbra, Portugal; 2009 — Múltiplos de arte (Art Multiples), Prova de Artista, Lisboa. Portugal; 2008 — Finalists Show, College of Arts and Design (ESAD.CR), Caldas da Rainha. Portugal; Outra casa no castelo (Another House at The Castle), Curator Isabel Baraona, Transforma ac, Torres Vedras, Portugal; 2007 — 5º festival de gravura de Évora (Évora 5th Engraving Festival), Engraving Bienal, Évora, Portugal; Caldas Late Night 09, Caldas da Rainha, Portugal; Semana Jovem (Young Week), Aveiro, Portugal; Fine Arts Exhibition, Orfeão Velho, Leiria. Portugal; 2006 — Jovens artistas (Young Artists), Viseu, Portugal; Praga (Plague), Braga, Portugal.
Jorge Américo is an artist represented by EMERGE Contemporary Art Agency. See his full curriculum at http://bit.ly/jamerico
http://bit.ly/americo_ctl