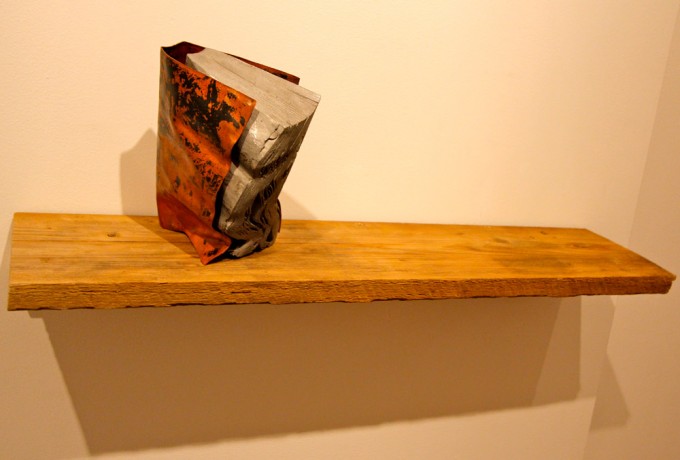 Arrive Wherever You Can
ROOSTER GALLERY, 190 ORCHARD STREET, NYC
OPENING RECEPTION: THURSDAY, JULY 12, 6 – 8PM
EXHIBITION DATES: JULY 12 – 29, 2012
Arrive Wherever You Can, is a group exhibition featuring work from the Rhode Island School of Design MFA Sculpture department. In this exhibition, sculpture is transformed into multiple considerations of making, ranging from installations and subtle animations to interactive objects and intimate spaces. These works intertwined within Rooster's gallery space display the practices and influences of six artists in close proximity asking viewers to arrive wherever not whenever they can.
Austin Ballard's (b.1987, Charlotte, North Carolina) work exists in pursuit of the precarious object as a cultural form signifying falling architecture and financial structures within government systems. More than physically, his objects aim to suggest a more emotional and psychological fragility in our society.
Emily Cornell du Houx's (b.1984, Barnstaple, England) process starts small and slowly builds its self into a complex structure determined to understand its own making.
Zach Gabbard (b.1981, Weymouth, Massachusetts) conflates symbols – language and hearts, into hyper specific and absurd narratives that sprout neon life while simultaneously withering away.
Tamara Johnson (b.1984, Waco, Texas) culls physical and emotional senses by transforming objects into bodies through an expanded choreography. Her performative grand prize ribbons and fleshy undulating latex object featured in this exhibition reference the vulnerability of the body and an awkward system of value, deflated.
Rebecca Reineke's (b.1983, Ord, Nebraska) videos produce other worldly landscapes and characters through the exploration of sound, sculpture and stop motion animation.
Working with domestic construction and materials, Kate Wignall (b.1987, Plano, Texas) evokes a sense of nostalgia for the spaces we inhabit in past lives and momentary experiences. Theses artist's works have evolved from a mere shared experience to a space ready to pursue the beginnings of other destinations, wherever they see fit.