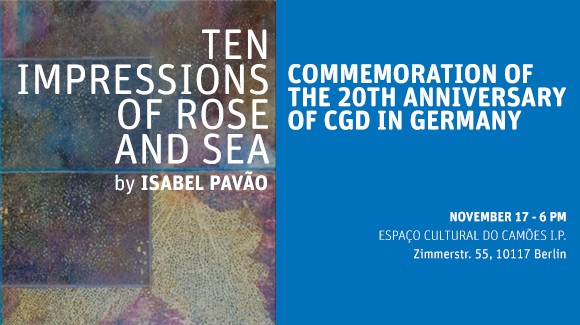 Ten Impressions of Rose and Sea in Berlin
Caixa Geral de Depositos and the Arte Institute, with the support of the Embassy of Portugal in Germany and Camões – Instituto da Cooperação e da Língua, have the pleasure to present the show "Ten Impressions of Rose and Sea" by Isabel Pavão in Berlin.
November 17 to December 16
6:00 PM
Espaço Cultural do Camões I.P.
Zimmerstr. 55, 10117 Berlin
Ten Impressions of Rose and Sea is the result of a collaboration between the artist Isabel Pavão and the poet Nuno Júdice. He wrote ten poems in response to her paintings.
This exhibition is part of the commemoration of the 20th anniversary of CGD in Germany.

10 Impressions _ artist statement

Impressions series represents the most recent phase of my work, but integrates in it, as usual, intimations of my past work, enduring patterns of inner experience and conceptual processes as a continuous work in progress being a reflection on the "act of painting".
The process involves structures of conceptual and poetic dimensions, that have been a constant of my work and reflections as an artist.
"Ten Impressions of Rose and Sea" are a collaboration with poet Nuno Júdice. The title for his poems is the one chosen also for this specific group of paintings.
We agreed as a method that I would created 10 paintings and he would created 10 poems as a response to my artwork, originating an open ended dialog between poetry and painting, creating new dimensions of meaning and experience.
Visually the main source of inspiration derives from Nature: roses and sea, referring to my autobiographical surroundings, the garden, the sea shore and swimming in the sea.
The visual materiality belonging to this series is intimately related in its conceptual process and representations to the physicality of repetition/overlapping marks to conjure patterns of new images digitally reworked and re-impressed on canvas from my own paintings, and then painted and drawn again showing a interplay of transition between organic forms, geometric structures and colors.
The naming of Impressions refers to various layers of meanings as well as a working process. There is a display of interpretations of atmospheric/ psychological imprint: I approach the paintings in this series as images/impressions that allude also to particular moods through their shifting complexions, being marks from Memory and Nature.