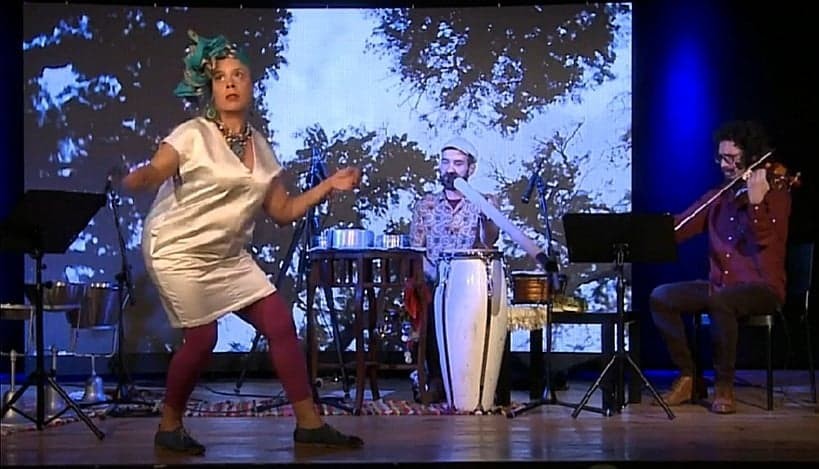 RHI Stage – Jacarandás, Musicized Words
02 June 2020, 10:00pm
RHI Stage and RHI Initiative present
"Jacarandás, Musicized Words"
at RHI Stage.
Project influenced by tribal and ethnic music, merging with classical and contemporary music, adding the word and the voice, deriving from the written texts that narrate part, or the prelude, of what will be the show "Jacarandás", a tribal operetta. This creation for Artes em Casa, will influence, above all, the musical universe that will be composed for the piece "Jacarandás". Work in progess, as it is all, and always, the artistic work, at least in our view.
Conceptually, "Jácarandás, musicized words" is a project that challenges ecological reflection.
"Jacarandas" are mere trees that bloom and fill with colors, that redraw, our sky and ground. That if we want to see them and stop to date them, to date ourselves, leave in their fruitful cycle, a moment, an open window to the contemplation…
The consequences of its flourishing are much greater than our gaze, too much. What its extinction has is far more brutal than the words I can leave here affect, if any of us are left to read them…
"Jacarandas" are rare and resistant species of indisputable beauty and exoticism, that traveled from tropical climates and took root in torrid climates like those in this region. They paint our city for a short period of time, for about a month, in an electrifying lilac color.
Our gaze is not indifferent to its flowering and to the "impressionist" canvas that reveals itself once a year, however, in the remaining months we are indifferent to climatic changes that deeply affect nature, these trees, theirs and our balance and, ultimately, our existence.
It is about existence, all its exploding, that "Jacarandas" speak, about the relationship between trees and women, who travel from exotic imagery, as much as their remote Amazonian origin … This is a tribal operetta, a ritual of sound, color and poetry."
There are three elements responsible for the musical direction and interpretation of the project. André Penas on the violin and other ethnic, alternative and toy instruments. Chissangue Afonso in the voice and spoken word, as well as, manipulating some other instruments, and Nuno Zúniga, in the congas, assures percussion and other traditional, toy instruments, coming from different tribal universes.
Find out more about the artists
André Penas
,
Chissangue Afonso
and
Nuno Zúniga
.
Download the RHI Think application, available at
playstore
and
applestore
, to watch the show and to value the artists' work by paying what you can as a ticket for these free shows. The shows are free but the work of the artists shouldn't be. Value it!
T
h
e show will also be transmited here on our platfor
m, and
on
Arte Institute and RHI Think
facebook pages.


Partners RHI Stage |
| Polarising | Pares Advogados
| Revista Visão
| Armazém 8 |
Câmara Municipal de Évora
|