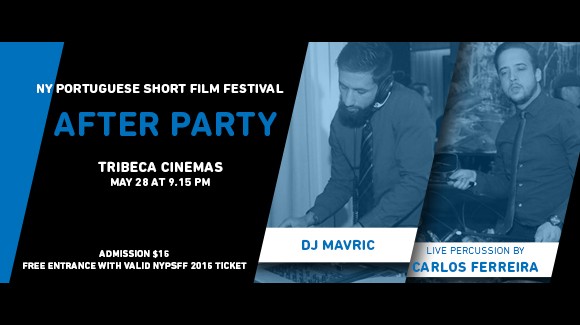 NYPSFF'15 After Party
Venue: Tribeca Cinemas
Date: May 28, 9.15 PM
Don´t miss the after party of NY Portuguese Short Film Festival at Tribeca Cinemas, May 28 at 9.15 pm with DJ Mavric with live percussion by Carlos Ferreira!
Better known for their experimental DJ + Drummer power duo Brick City Riot, Mavric and Carlos Ferreira have rocked countless dance-floors together in the Tri-state area.
Their sets are as vibrant as surprising and come to life through live organic percussion.
An unique DJ + Drummer experience that will take you places you've never seen before!
Buy your tickets here.
Guests with a valid ticket for the NY Portuguese Short Film Festival 2015 have free entrance to the after party with DJ Mavric and Carlos Ferreira at Tribeca Cinemas.