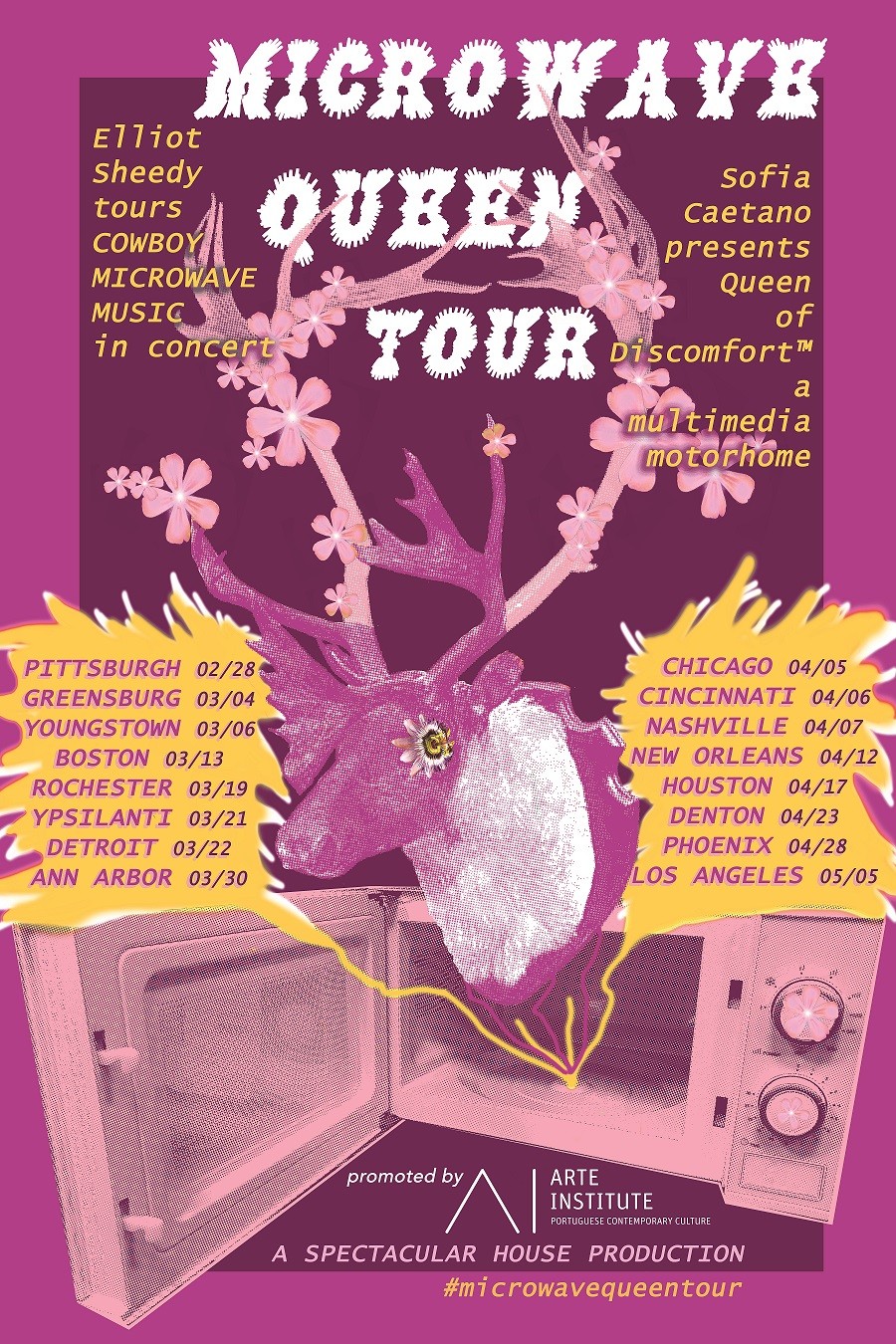 "Microwave Queen Tour" in the USA
The Arte Institute is pleased to support "Microwave Queen Tour" in the USA.
Catch touring artists Elliot Sheedy (Outlaw Crooner of Suburbia) and Sofia Caetano (Queen of Discomfort TM) as they cross the country showcasing their latest works.
A multimedia motorhome – "POISON GARDEN"
An installation inside a vehicle-gallery, showcasing video projections, music and painting. Let the digital body of host and Queen of Discomfort TM Fatty Con Fetti project out of the mining helmet you'll be wearing as she introduces you to her iterations of poisonous flowers (these smell like the corrupted fragrance of everyday toxic elements).
"Cowboy Microwave Music" in concert
ELLIOT SHEEDY performs his latest solo-record, this is a live musical performance featuring octave-fuzz guitar solos from Arcadia, cluster-chord synth panorama to convert the Philistine, lyrical distillation of the Zeitgeist via electric shaman incantation. Including a threshing floor stage made out of trinitite. Created by the artist Sofia Caetano.
TOUR DATES

Rochester – March 19
Ypsilanti – March 21
Detroit – March 22
Ann Arbor – March 30
Chicago – April 5
Cincinnati – April 6
Nashville – April 7
New Orleans – April 12
Houston – April 17
Denton – April 23
Phoenix – April 28
Los Angeles – May 5