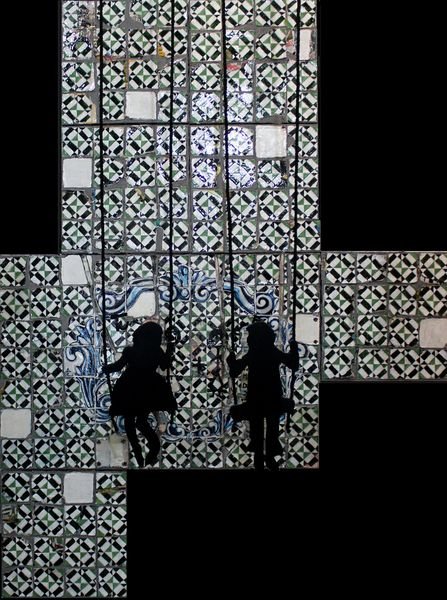 MANUELA PIMENTEL – "As paredes têm ouvidos" (Walls that tell stories)
We have the pleasure to exhibit "As paredes têm ouvidos" (Walls that tell stories) by Manuela Pimentel.
Press Release
As paredes têm ouvidos (Walls that tell stories)
Walls that tell stories. Wall that shelter love plots. Divide spaces. Together and apart. As if all of it was indistinguishable. As if all this was not, more or less casually, our life. 
Tiles that are the ancient history of a country. Of a culture. Covered by posters that advertise stories that are yet to happen. Shows, exhibitions, demonstrations.  People who write over the walls. Over the tiles. People who torn posters. People who post on top. People who tell pieces of their story, declaring love, rebellion, desire. People who grumble. Messages that we become accustomed to overlook. 
Mario Cesariny wrote "Between us and the words, the walled up. Between us and the words our duty to Speak up. " 
Manuela Pimentel pared messages. She tore posters. Painted tiles. She reproduced messages of love, and others, who insisted on talking to her. She ripped pieces and allowed us peer into the heart of her work. She's been absorbing the city and found that the note 'your ex miss you', on a wall in Leca da Palmeira, had been written for her. And why not? If the walls have ears …
Pedro Lamares
Manuela Pimentel
Born in O'Porto in 1979.
Completed a Bachelor in Drawing and a Degree in Fine Arts, specialising in Lithography, Screenprinting and Multimedia Art, Escola Superior Artistica do Porto (ASAP) in 2003.
Invited to teach the subject of Lithography at ESAP. Participated in several workshops on Traditional and Contemporary Japanese Woodcut, guided by Professor Hiroshi Maruyama (Tokyo) in 2003 and Printmaking, directed by Professor Dacos (Belgium) in 2006.
Since 2004 organises and directs workshops on Traditional Japanese Woodcut in schools, museums and galleries. In parallel,  develops the project Impressoes de Risco, aiming to create graphic work using unusual media, exploring the concept of art mobility.
In 2008, she is invited by the sculptor John Galrão to join the group of various artists Afrontamentos, exhibiting in various galleries in Porto and Lisbon.
Her career has been marked by public interventions, Theater, Hospital and factory spaces, in collaboration with the sculptor Joao Pedro Rodrigues.
In 2010 began scenic work, working in shows like Musica no Coracao (The Sound of Music), Os Saltimbancos (The acrobats), Cyrano de Bergerac, Irene , Irene, Sirva o leite creme, among others.  She guests as resident artist in the Campo Alegre Theatre Poetry Reading on Thursdays.
Her work is represented in several public and private collections: Museu do Vinho do Porto, Hospital Senhora da Oliveira Guimarães, A2 Textile Factory – Asdrubal J. A. SA – St. Thomas of Negrelos, Ginoclin – Guimarães and the Municipality of Maia.
Awards
2007
Servantes Gallery, O'Porto (Corpos em Expressao exhibition)
2007
2001
"School Out, Out School" in Arthobler Gallery in O'Porto and Tondela
2001
2006
"Por entrespaço branco, reclama a perede fria", Welcome Center Gallery, Maia
2006
2007
"Fixação Proíbida", Esteta 7 Gallery, O'Porto
2007
2007
"+/- Fixação Proíbida ", Servantes Gallery, O'Porto
2007
2007
"Corpos em Expressao", Servartes Gallery, O'PortoO'
2007
2008
"Matrix - Etching", Esteta Gallery, O'Porto
2008
2009
"Amo-te", Servartes Gallery, O'Porto
2009
2010
"Fixação Proíbida", Jorge Shirley Gallery, Lisbon
2010
2011
"As paredes tem ouvidos", Joao Pedro Rodrigues Gallery, O'Porto
2011
Other

– XII and XV Biennial International Cerveira

– Fourth Biennial of Young Art Painting of Penafiel (2006)

– Third Prize of Plastic Arts-XXI century Bavaria, Museum of Vila Nova de Cerveira, (2004).