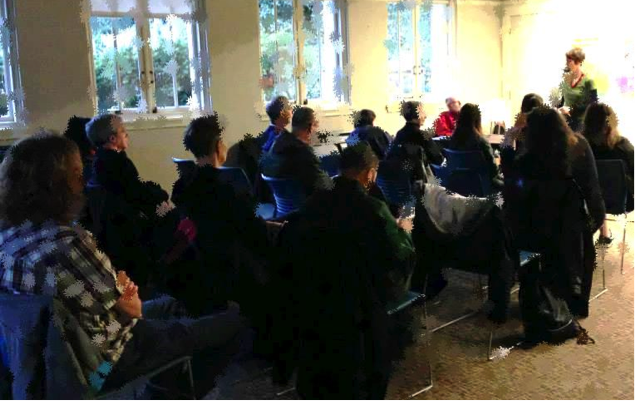 Kale Soup for the Soul
Arte Institute supports and suggests "Kale Soup for the Soul", April 23 at
Consulado Geral de Portugal.
Wed, April 23 – 6:00pm
Consulado Geral de Portugal
3298 Washington St
San Francisco, CA
Portuguese-American authors sharing poems and stories about food, family, and Portuguese Culture
Who we are
Kale Soup for the Soul (KSFS) is a reading series featuring amazing and amazingly diverse Portuguese-American writers that started in 2012. In the last two years, KSFS has brought Portuguese-American Literature to all areas with large Portuguese immigrant populations in the United States.
The authors read their own work, from poems, short stories to excerpts of larger literary texts, focusing on family, food and Portuguese culture. They talk about the background stories that helped on their writing process, sharing the family and personal experiences that make up the great Portuguese-American live in this country, and that's what makes KSFS so special. All KSFS events are free and open to the public.
Program
Scott Laughlin (San Francisco, California)
Scott Laughlin teaches English at San Francisco University High School and is Associate Director of DISQUIET: The Dzanc Book Literary Program in Lisbon, Portugal. He studied at Boston University and New York University, and is currently enrolled in the MFA Program at Converse College. He has been published in the SF Bay Guardian, Post Road, ZYZZYVA.
Millicent Borges Accardi (Topanga, California)
Millicent Borges Accardi, author of three poetry books: Injuring Eternity, Woman on a Shaky Bridge, and Only More So has received fellowships from the NEA, CantoMundo, California Arts Council and Fundação Luso-Americana (FLAD).
Darrell Kastin (Sacramento, California)
Darrel Kastin's books include the novel The Undiscovered Island, short story collection, The Conjurer & Other Azorean Tales, with two new novels: A Tale of the Azorean Nights, and Inês de Castro: Queen after Death forthcoming. He is also a musician and composer.
Anthony Barcellos (Porterville, California)
Anthony Barcellos grew up speaking Portuguese on his grandfather's dairy farm in Porterville, and is the author of the acclaimed novel Land of Milk and Money (Tagus Press). He is a math professor at American River College in Sacramento.

Frank Xavier Gaspar (Long Beach, California)
Frank X Gaspar, poet, novelist and professor. His poetry books include Night of a Thousand Blossoms, The Holyoke, Mass for the Grace of a Happy Death, A Field Guide to the Heavens and two novels: Leaving Pico and Stealing Fatima. His awards include fellowships from the National Endowment for the Arts and three Pushcart Prizes.
RSVP to MillB@aol.com