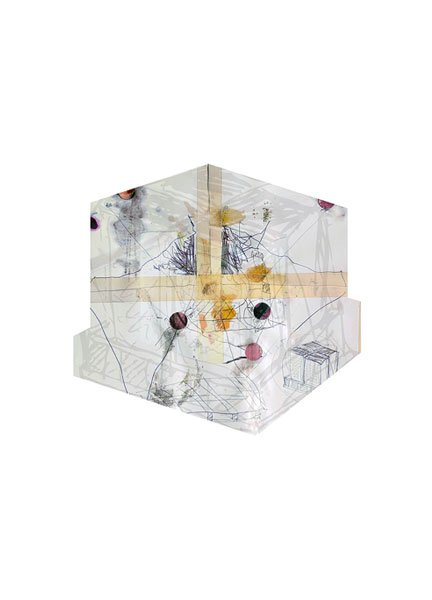 Empty Cube presents "Sus-penso-em-pac"
The work "Sus-penso-em-pac" that Pedro Tudela (Viseu, 1962) will present at EMPTY CUBE in 12 May was especially conceived and developed in two separate occasions for the unique and unrepeatable event of its presentation. Over the last decade, this author's work has branched out into areas of artistic creation that are akin to the publishing activity, be it in his work as a musician or as phonographic publisher, sculptor and performer, in the sense that his sound installations activate the performativity of the space in which he works: his action becomes the context in which the work takes place.
"Sus-penso-em-pac" is a piece that began while preparing the physical space of EMPTY CUBE for hosting a work by another artist. This allowed Tudela to combine the taxonomy of the exhibition space with its links to the artistic practice, while recontextualising the whole memory of the work demanded by this exhibitive and curatorial project to present that memory as a compacted correlate, a retrospective glance that is a recurring and updated factor in each moment of this project.
Created in 2007, EMPTY CUBE is an independent non-commercial project. It has as its objective the presentation of visual arts projects that respond to a specifically closed, empty and reduced space over the course of an evening.
The spatio-temporal dimension of this project is crucial in that it not only conditions the artist's production, but the articulation between the work of art, its presence in space and its relationship to the viewer, who sees the work during the course of a one-time only, evening presentation of four to five hours. EMPTY CUBE may eventually be held in other sites or locations deemed of interest to its continuity.
Following our nomadic profession, as of March 2009, Empty Cube will be located within Appleton Square contemporary art gallery (www.appletonsquare.pt) – Rua Acácio Paiva, 27 R/c, 1700-004, Lisbon, Portugal.
May 12 – 10 pm – One Night Exhibition
João Silverio, Curator