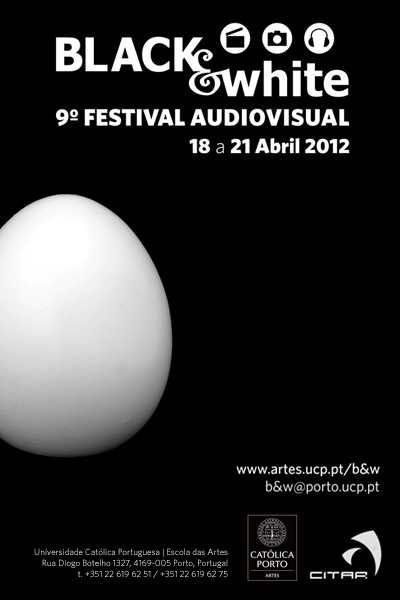 Black & White Audiovisual Festival
From April 18 to 21, 2012
Black & White Festival presents
The ninth edition program
The organization of Black & White Audiovisual Festival has just closed the program of the event's ninth edition, which takes place from April 18 to 21, at Catholic University, Porto – Foz. The program consists of artist talks, screenings and competition.
The opening ceremony features: "Journey to the Last Frontier", a multimedia piece, produced specifically to open the 9th Black & White Festival. This is a project by Angolan musician, composer and designer of instruments Victor Gama judge on the event's competition. This creation led an expedition to Antarctica to capture video and audio material, featuring the journey of a penguin and human explorers, coming together at the last wild frontier of our planet, the Antarctic continent.
Another highlight of the program is the talk of Filipe Homem Fonseca, screenwriter, writer, musician and filmmaker. The discussion focuses mainly on "Azul a cores", a play of his own recently adapted to the short film format. The project is unique in that the author has chosen the same protagonists for the film version: Margarida Cardeal e Tiago Rodrigues. In first person, he will explain what changes in the process of directing on a stage and in a recording environment.
The presence of international festivals are other compelling moments of the event: the American "LA Skins Fest", which is dedicated exclusively to Native Americans, or Galician Cans Festival, which has the peculiarity of always performing at the Cannes Festival dates, are present in Porto. Along with the festival's program was also released the image of the 2012 Festival. Jenny Feray – teacher at Católica Porto, Doctor in Arts and Sciences of the Art and Photography (University of Paris I Panthéon-Sorbonne – is the author of the photograph that represents this Black & White Festival edition. An oval-shaped form, portrayed in a black and white universe, invites to thinking.
The Black & White Festival also offers a full evening program. The first and last nights end respectively with an opening and closing party. The evening of Tuesday, April 19th, invites interested parties to attend a concert by Nuno Prata, former member of Ornatos Violeta, and on Wednesday, the 20th, a performance from Porto group "Lado Esquerdo".
Unique in the world to accept works of photography, video and audio carried only black and white, this year the festival takes to competition 30 films, nine photographic series and seven audios.