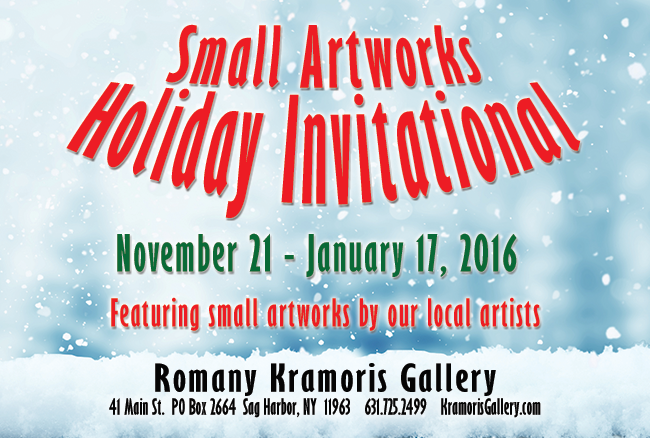 Small Artworks Holiday Invitational
Arte Institute suggests "Small Artworks Holiday Invitational" at Romany Kramoris Gallery.
Small Artworks Holiday Invitational
November 21 – January 17, 2016
Romany Kramoris Gallery
41 Main Street, Sag Harbor, NY 11963
Romany Kramoris Gallery is pleased to present a snowstorm of local artistsin our colorful Holiday Invitational, showing from November 21 through January 17, 2016, along with the usual holiday fare.
Small and affordable art and fine craft gifts.
Artists featured include Joyce Brian, Lauren Chenault, Lucille Colin, Thomas Condon, Ted Davies, Jesusa Delbardo, Judy Duboff, Christopher Engel, Franklin Engel, Stephen Finkin, Rick Gold, Barbara Groot, Ruby Jackson, Adrienne Kitaeff, Daniel Kramoris, Eleanor Kupencow, Lutha Leahy-Miller, Ghilia Lipman-Wulf, Peter Lipman-Wulf, Dinah Maxwell Smith, Veronica Mezzina, Maria Orlova, Stephen Palmer, Isabel Pavao, Gabriele Raacke, Bob Rothstein, Christina Schlesinger, Jorge Silveira, William Skrips, Randy Smith, Joan Tripp, Gayle Tudisco, Richard Udice, George Wazenegger, Deby Zum, and more.

Two receptions will be held with holiday cheer and munchies, served while you do your holiday shopping.
Sunday, November 29, 2-4 PM
Saturday, December 12, 2-4 PM