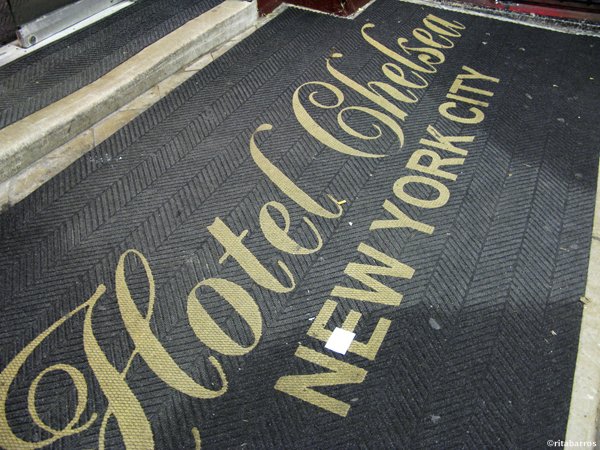 RITA BARROS – Displacement
We have the pleasure to exhibit Displacement by Rita Barros.
Press Release
Displacement
I have been living at the landmark Chelsea Hotel in NYC since 1984. In the summer of 2011, the hotel was sold and closed to transient guests. The long time residents (about 100 people) have been fighting for the right to keep their homes under the threat of eviction, facing constant harassment, and living amid the debris of demolition.
The series, "Displacement", deals with the daily emotions of living under very harsh conditions, the insecurity of losing the safety net called home, and the sadness of watching helplessly the destruction of perhaps the city's most important repository of collective memory.
Rita Barros

Originally from Lisbon, Portugal, Rita Barros is a freelance photographer who has lived in New York City since 1980. She has a MA in Art in Media and Studio Art from New York University and the International Center of Photography. She is the author of the book "Fifteen Years: Chelsea Hotel" 1999.

Her work has been shown in numerous group and solo exhibitions: at PS 1, Briggs & Robinson Gallery, Exit Art, (all in NYC); Center for Photography at Woodstock, (NY), Wilfredo Lam Contemporary Art Museum (Havana, Cuba);  Encontros De Coimbra and Museum de Água (both in Lisbon, Portugal), São Paulo Contemporary Art Museum (Sao Paolo, Brazil), Photo España 07 at the Museo de Arte Contemporanea (Madrid, Spain), Flash Art Fair (Milan, Italy), at Paris Photo 2009 and at Fundação Gulbenkian, (Paris).

Her portraits and cityscapes have been published in many European and American magazines, including New York Times, New York Magazine, Newsweek, Nouvel Observateur, Elle, Vogue, Zoom, Expresso, GEO, El Mundo, La Vanguardia, Expresso, Marie Claire, Le Monde.

She was the recipient of a New York Foundation for the Arts grant in 2002 and is represented in various Portuguese and international art collections.


www.ritabarros.com