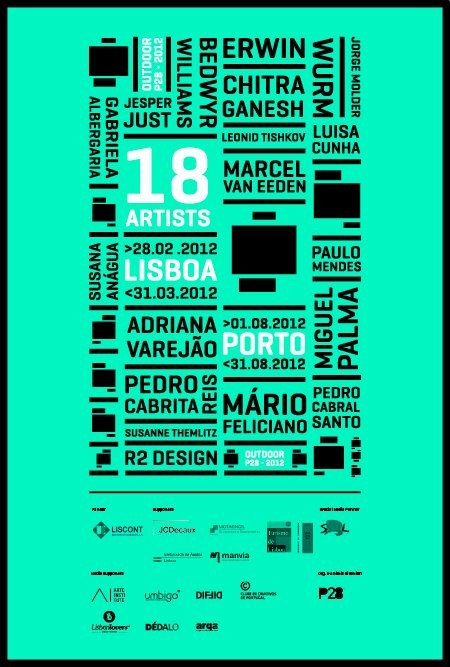 OUTDOOR – P28
OUTDOOR – P28
Artists: Adriana Varejão [BR], Bedwyr Williams [UK], Chitra Ganesh [US], Erwin Wurm [AU], Gabriela Albergaria [PT], Jesper Just [DK], Jorge Molder [PT], Leonid Tishkov [RU], Luisa Cunha [PT], Marcel van Eeden [NL], Mário Feliciano [PT], Miguel Palma [PT], Paulo Mendes [PT], Pedro Cabral Santo [PT], Pedro Cabrita Reis [PT], R2 [PT], Susana Anágua [PT], Susanne Themlitz [PT]
Lisbon
28th Feb > 31st Mar 2012
Oporto
1st Aug > 31st Aug 2012
Guest curator
Luisa Santos
P28 returns to the public space in late February, with a new project which will feature 18 artists, Portuguese and foreign, in outdoors and locations of high visibility.
The art project OUTDOOR was created with the purpose of manipulating outdoors with 8m x 3m, which were originally designed to support advertising or political campaigns due to their huge potential as a communication support to the masses.
After using shipping containers to promote acclaimed artists, P28 will now turn to outdoors as a support of artistic manifestations. The project will be presented in Lisbon on February 28 and will also have a second show in Oporto, from August 1.
——————–
INFO +
P28
geral@p-28.com
Press
comunicacao@28comunicacao.com
+351 917 659 251
p-28.com
——————–
Partner: Liscont
Supporters: JCDecaux, Mota Engil, Alugueres e Transportes, Turismo Lisboa, Manvia, Embaixada Áustria, Embaixada Dinamarca
Oficial Media Partner: Jornal SOL
Media supporters: Arte Institute, DIF, Umbigo, Dédalo, Arqa., Lisbonlovers, Clube de Criativos de Portugal
Org. & Artistic Direction: P28
——————–
Credits
Design by P28
Music: Four Tet – Sing