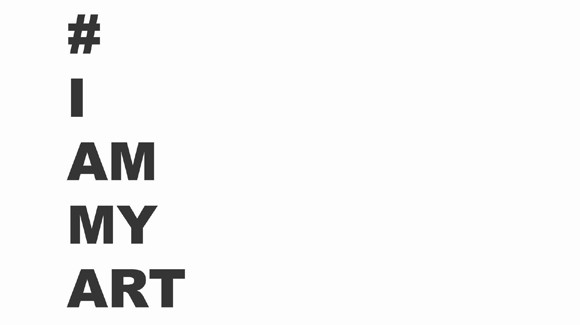 I am my Art
Arte Institute suggests "I am my Art".
On May 10 2014, Vanessa Barbosa, founder, will be premiering her
anticipated fashion film, I AM MY ART, while creating an interactive
space for artists to showcase their work with the audience.
I AM MY ART will invite innovative artists in music, film, art, design,
fashion and introduce artists and their art for a night of experience and interaction. With a growing distribution network, I AM MY ART seeks
to become the premier and culture platform and cutting-edge art
known to artists and viewers alike.
May 10th, 2014
69 Leonard Street
7:00 – 10:00 PM
Food and Alcohol will be included.
__________________________________________
I AM MY ART | MISSION STATEMENT
I AM MY ART is an international platform that promotes a transparent relationship between the artist and audience.
Founded by multi-media artist Vanessa Barbosa, I AM MY ART seeks to facilitate artists across multiple disciplines to push the boundaries of creative expression through experience and interaction with the artist themselves.
Seeking to inspire new and emerging artists by showcasing the work in tandem with the artist themselves. Artists can express their greatest passions and pieces of work through their own interpretation.
On May 10 2014, I AM MY ART will present innovative artists in music, film, design, and fashion – and introduce their art for a night of experience and interaction. This event will take place in the heart of New York City, at 69 Leonard street.
With a growing distribution network, I AM MY ART seeks to become the premier, cutting edge art and culture platform known to artists and viewers alike.
We invite you to get involved. Experience. Interact. Encourage.
__________________________________________
I AM MY ART | VANESSA BARBOSA
Native Canadian Vanessa Barbosa grew up with a global perspective originating from her Portuguese heritage. Her studies having taken her to London, England, Toronto and eventually New York City in 2009, Vanessa has developed a breadth of knowledge within the arts. By the age of 25, Vanessa was named Creative Director for women's wear design house, Annabelle New York and notably worked for two of the most renowned fashion designers in the world, Oscar de la Renta and Giorgio Armani. Her broad experience and range has enabled her to create a comprehensive foundation in the fundamentals of fashion, and educated her in the details of fashion design.
Vanessa believes in the importance of supporting the arts and the artist's process. She is creating the momentum to push all artists to believe more in their practice and to eliminate the filtering process that often blurs the message that the artist is trying to convey to the viewer. I AM MY ART, is designed to create an understanding that all artists are, in fact, their own canvas. This came to fruition when Vanessa began directing her premiere Fashion Film in the winter of 2014, "I Am My Art." Her intent was to convey her experience of expressing the process of concept and creation that is manifested before the product is created. The film is an introspective look into her, as a fashion designer, and the creative process that is often overlooked due to market expectations. She created an organic, raw and honest moment with the belief that they are rare, and often overshadowed by pre-existing notions and false equations.
She is dedicated to supporting local artists and providing a platform unlike any other for the creative conceptual process of the artist. Both her adept vision in design and savoir-faire in relation to business makes her a pioneering artist intent on promoting all mediums of art.
__________________________________________
CONTRIBUTING ARTISTS
MURILO ELBAS |ACTOR
Originally from Rio de Janeiro, Murilo Elbas has almost 30 years of career as an actor, producer, and director as well as a published writer. Elbas has divided himself between the two main areas of his studies: acting and holistic therapy.
As an actor, he participated in several Brazilian soap operas from Globo Television Net- work (A Favorita, Avenida Brasil just to name a few), as well as the TV series A Grande Familia, Faça Sua História, among others. He also acted in such big blockbusters as Amor por Acaso, Predilection, and in the awarded Tropa de Elite (Elite Squad), the most awarded and popular Brazilian movie of all time in Brazil.
After completing studies in holistic therapy in Poona, India, Elbas has been specializing in several holistic therapies dealing with the body. Due to his solid background, he was given, in 2006, a charter by the City of Rio de Janeiro to work as independent therapist, and has been dedicating himself to such activities ever since. Besides this, he also released a set of five meditation CDs, which combines body and mind care, and published three books on physical education.
He currently resides in Toronto, Canada, where he cofounded Murimar Productions & Enter- tainment, which produces theater, musicals, concerts, etc.
ABOUT HIS ART:
A practical experience involving visual arts, dance, and sounds, through a space that w i ll work with your emotions, senses, and feelings.