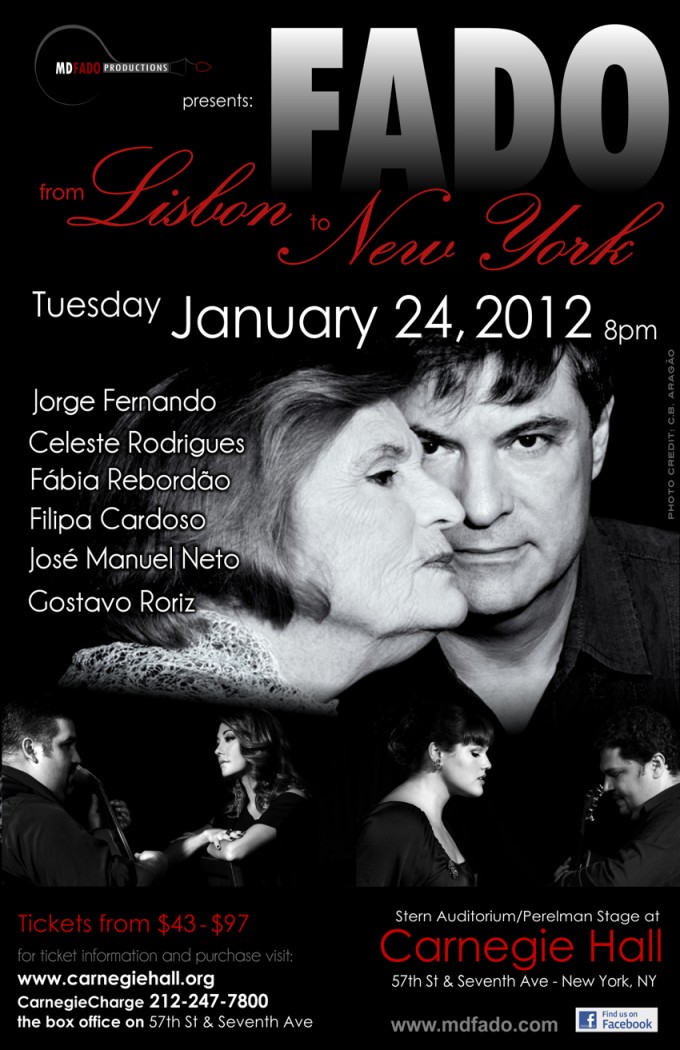 From Lisbon to New York
Fado: From Lisbon to New York a magical Fado Night comes to Carnegie Hall, January 24, 8 pm.
In January 2012, Carnegie Hall will feel like a typical Lisbon tavern, as its Stern Auditorium/Perelman Stage will be graced by the presence of Fado performers.
MD Fado Productions, a U.S.-based independent production company, has assembled a cast of Portuguese performers to collaborate in creating a magical evening of Fado, Portugal's unique musical genre, typically characterized by mournful tunes and lyrics, often about the sea or the life of the poor.
"Fado, although often sad and melancholic, is a style of music that is pure raw emotion!" said Michael da Silva, concert producer. "And even if one doesn't understand the lyrics, it's hard not to be lured by the sheer beauty of the musical dialogue between the voice and the accompanying guitars."
Fábia Rebordão and Filipa Cardoso, two young and up and coming performers will join the legendary Celeste Rodrigues, currently the oldest living Fado singer in Portugal. Born in 1923 in the neighborhood of Alcântara, Lisbon, Celeste is the sister of Amália Rodrigues, Portugal's all- time celebrated "queen of Fado."
The three ladies will perform poems and musical compositions by Jorge Fernando, currently considered to be among some of Portugal's most prolific poets, singers, songwriters and guitarists.
The evening would not be complete without the magical playing of José Manuel Neto, a Portuguese guitar virtuoso and Gustavo Roriz, bass player, who will accompany Fernando and the ladies.
"The idea behind this performance is to literally transport the audience to Lisbon, specifically to a Fado house, and give them an unforgettably 'intimate' performance," said Jorge Fernando. "Our goal is to make them feel the true essence of Fado."
"Fado: From Lisbon to New York" is scheduled for January 24, 2012 at 8:00 pm at the Stern Auditorium/Perelman Stage at Carnegie Hall. Tickets on sale now .
For more information and tickets please contact CarnegieCharge at 212-247-7800, visit www.carnegiehall.org, or visit the Carnegie Hall Box Office at 57th Street and 7th Avenue.