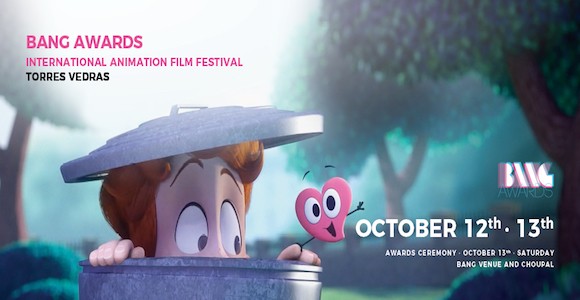 Bang Awards – Festival
The Arte Institute suggests the Animation Film Festival – Bang Awards, in Torres Vedras, on October 12 and 13.
Directed at digital arts and Multimedia, BANG combines new technology and the magic of animated films. It aims at bringing together different audiences, as are the films that we are sent. Our audience is truly wide and varied, since school children to adults looking for inspiration; from teenagers to whom new technology is the future, to senior citizens that allow themselves to be amazed by new worlds.
BANG Awards is a festival of unforgettable animated short films, supportive of creative productions by artists from all over the world! Because it is developed on an online platform, BANG reaches all users that can follow the festival from any screen, anywhere in the world. It is an international event, promoted by the Municipality of Torres Vedras, in Portugal; organised by Nau Identidade – Comunicação e Promoção Turística, Lda and produced by Slingshot – Comunicação e Multimédia, Lda.
For full program and schedule please click here!
Don´t miss it!